Buyer Beware | Watch out for before booking!
Protect yourself and your pocketbook. Read this page before you make your decision.

Everyone want to find the best possible deal. Price shopping is being a responsible consumer. Remember these are aircraft and not a carnival ride. A lot of money goes into making sure that our aircraft and equipment is in top operational shape. Failing and fiduciary distressed companies resort to third party certificate sales.
If they can't afford marketing for their company, what kind of condition is the balloon your are flying in going to be in? Why risk your loved ones safety?Arizona Hot Air Balloons not only sell a memory, we sell a peace of mind. Do not get stuck going home with a over priced piece of paper that can not be redeemed in Arizona like other customers in the past!
So you have decided to book a hot air balloon ride in AZ.  We have prepared this buyer beware page for all of our potential customers to protect them from fraud. Its a shame we have to warn our customers. This is information that is important for our customers to know.
You get onto Google and you begin to search for a hot air balloon company.  The page results are overwhelming and it looks like Arizona has a hundred hot air balloon companies!  We don't, in fact there is only a small handful of hot air balloon companies in AZ.  Arizona Hot Air Balloons is going to help you navigate the frivolous hot air balloon ride business models.
Because of how popular the Arizona Hot Air Balloons.com companies brand is. Companies having strife in branding will often use a name close to ours to deceive the customer. This is NOT our company and we are not affiliated. We DO NOT use groupon.
Its appalling a company will go this far to hide their identity. This is just one of many examples of frivolous business activities that fake companies will go to deceive the consumer. Why not build your own brand?
What do you have to hide?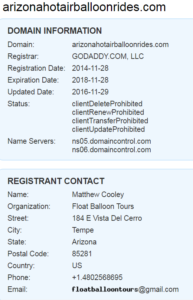 The balloon ride company that works with these certificate companies will use you as the consumer as a "Fill In" option. You may think you have a solid balloon ride reservation, but you will be bumped for a full fare paying customer last minute if applicable.
The certificate companies will take 50% of the amount you pay. Wonder why groupon wont let you click their 3 star rating? They don't want the customer to know the truth. Why risk the last minute cancellation for a full fare paying customer? This is your memory!
Alert!!
Hundreds of websites give false information to make you think they are local companies.
We've been warning our visitors about misleading websites that appear to be run by a local company but are all run by one company with a long history of consumer complaints. The company operating these misleading sites has added false contact information in response to our suggestion to look for local contact information.
A sampling of these websites are below. When comparing these sites, you'll see many share the same page design and use the same street address but in the local city appropriate for the individual site.
This is false and misleading information designed to make you think they are a local company, when in fact they are not.
These sites not only share false addresses, but fake testimonials, too. See this google search to discover over 100 different websites with an identical fake testimonial:
Fake Testimonial search
Or how about nearly 2000 websites with the same phone number?
Identical phone number search
An additional 300 sites from the same company, using a different toll free number:
Second phone number search
A very small sampling of misleading sites that are NOT local companies:
www.mesahotairballoons.com/
www.littlerockhotairballoons.com/
www.portlandhotairballoons.com/
www.richmondhotairballoons.com/
www.newyorkhotairballoons.com/
www.losangeleshotairballoons.com/
www.concordhotairballoons.com/
www.daytonahotairballoons.com/
www.springfieldhotairballoons.com/
www.bowlinggreenhotairballoons.com/
www.tallahasseehotairballoons.com/
www.lasvegashotairballoons.com/
Distressed businesses use Group-on
Then there is the Group-on hot air balloon ride certificates.  How does it work?  They say "Price is what you pay, value is what you get".  Unfortunately that is NOT the case with theses types of balloon ride certificates.
You as a customer, call Group-on and you book a hot air balloon ride in Arizona.  Only thing is, you just bought a Arizona hot air balloon ride certificate and not a ride.
Many times the companies that honor them give your shorten flights about half the normal time.  They will do what the industry calls "hops" where they have a influx of angry passengers wanting the same day.
They will dedicate a hot air balloon for the "discounted" audience and they will give you a thirty minute flight to give you the sensation of a flight.  They will land and will switch half the flown passengers out with new ones shuttled out to the landing site.
After the switch, then already flown passengers will be shuttled to their cars without a post flight ceremony, no 200 year traditional champagne celebration and no post flight h'orderves!
The Group-on business model is ideal for a restaurant that can give a cheap breakfast to get you in the door.  These companies are rolling the dice that you will come into their establishment with others.
They are betting that someone in your party will decide to get a more expensive plate. This is not an ideal business model for a hot air balloon company.  In fact, hot air balloon companies that accept these types of certificates are many times struggling distressed companies.
Rather than use their marketing dollars in advertisement, the distressed balloon company will take them and sadly often never redeem them and the customer ends up on the short end of the stick.
We have seen very reputable Phoenix Arizona hot air balloon companies that have been in the valley for year go out of business with the use of these certificate companies.
Arizona Hot Air Balloons is not a starving company that needs to resort to their customers being sold back to them.  As an industry standard, we do not take a pre-payment for your hot air balloon ride in Arizona.  We do however take a debit/credit card to hold the reservation.
We will never pre-bill or pre-authorize your card on file for a reservation with us.  The ONLY time we will make a point of sale on a merchant card is when you want to purchase one of our company's hot air balloon flight gift certificate.
Third is the pay per click advertisement on your search.  Companies that do their pay per click campaign are often these nation wide companies.
When searching for a reputable hot air balloon ride, Arizona provider, look past the pay per clicks.  Find a company that is below the Google maps locations.  If you ask the company the name of their pilots they will say "We have many pilots through out the US".  HANG UP!!
We are a local company, doing local business.  We value the relationship with you and not your checkbook.  When you are with us you become our family, and not just another balloon ride number.
As always we want to keep our customers informed.  For more information feel free to call our motivated staff, so we can custom design your memory of a lifetime with us!
Office 480-282-8686
You can also fill out our small reservation inquiry form to initiate your balloon ride in Arizona.  You can also get more balloon ride information with Arizona Hot Air Balloons with no pressure to book a balloon ride.