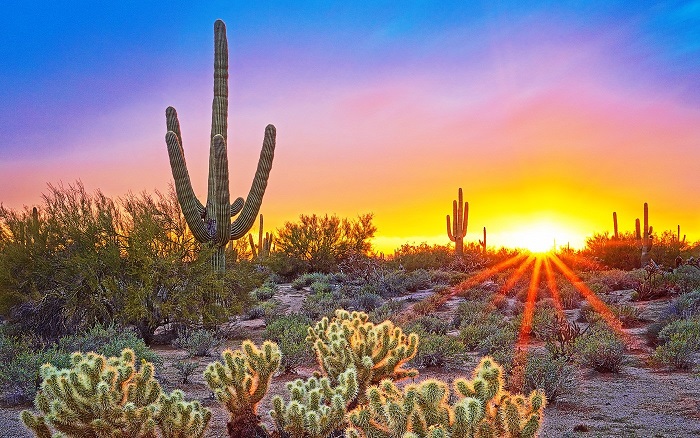 What to expect with a Phoenix Arizona Balloon Ride.
Many people have a sincere desire to fulfill a chance of a lifetime in a Hot air balloon in Phoenix Arizona. Folks never know what to expect with a Phoenix Arizona Balloon Ride.
We love floating over our hometown, watching the sunrise from a hot air balloon. It was breathtaking! Here are some helpful tips for hot air balloon rides over the beautiful Sonoran desert in north of Phoenix Arizona.
Hot Air Balloon Rides Phoenix AZ & What to expect as a first time balloon rider.
Its early morning, and you get up at dark thirty in the morning, you fill up the coffee mug, and drive to the meetup point for your balloon adventure with Arizona Hot Air Balloons. You bundle up in layers and half asleep you are hugging your warm coffee tumbler. You meet us at the meeting location, while your balloon pilots are double checking the weather and the forecast.
You give the ground crew your name, and you are promptly checked and assigned your shuttle. You board onto your balloon shuttle and off you go to the awaiting hot air balloon being assembled and safety checked by your balloon pilot and balloon crew.
Once you arrive, you get out and you meet your commercial hot air balloon pilot and professional hot air balloon ground crew. They greet you with a smile. Your pilot holds a balloon safety meeting as the Arizona sun comes up out of the east, gently warming your bodies core.
After about 15-20 minutes of cold inflating the hot air balloon with 70% cold air, the pilot lights the pilot lights on the hot air balloon and he begins to fill the remaining 30% of the balloon envelope with heat. As he is adding the heat the balloon begins to gently lift to the standing position.
It is at this time, the pilot asks you to board on and add everyone's weight to the gondola (basket). Once everyone is on board, The crew make a couple of small adjustments and housekeeping on the balloon crown lines.
You pass your camera to the crew members as the balloon pilot makes his final checks for the balloon launch. They snap a photo freezing in time your memory of a lifetime and they hand you back your camera. The balloon pilot lets go of the balloon tie off and up up and away you go. Gently floating off the face of the earth.
Early in your flight, the pilot does a little contour flying through the mountain preserves. Treetop level, you have an opportunity to snap some photos of the native animals and drought tolerant plants that live in this harsh desert environment. Your balloon pilot stair steps the balloon up at different altitudes giving you all kinds of photo opportunities while on your peaceful balloon ride.
After several minutes on your balloon ride, you have reached altitude and you are snapping breath taking photos of the Bradshaw mountains that are know for their rich gold production in the earlier years before Arizona was even a state! In fact if it's a clear day, you can get photos of the San Francisco Peaks located in Flagstaff Arizona 172 miles away!
Once you return the earth, you will sit down to fine linen tables and glass stemware. You will eat a catered breakfast and champagne mimosas. This is a 200 year tradition. After your balloon ride and catered balloon breakfast, you will be awarded a flight certificate.
We say the balloonist prayer and then we shuttle you back to your vehicle. The flight itself is about an hour to and hour and a half and the entire experience from our very first hand shake to our very last hug goodbye is about three and a half to four hours long.
Some helpful balloon information.
Types of hot air balloon rides
What to expect with a hot air balloon ride.
We look forward to sharing this lifetime memory with you and your loved ones.
Gentle Breezes
Arizona Hot Air Balloons!